No building is impervious to water damage. Over time, even the strongest, most advanced concrete structures will suffer erosion due to the elements. This can seriously lessen the value of your property – not only its aesthetic appeal – but also its structural integrity. Chemical waterproofing helps you stave off these effects, preserve your industrial structures and keep business on track. The best waterproofing for your building will depend on both the work you're doing and the structure of your building.
Why Waterproofing Chemicals?
STRENGTHENS THE STRUCTURE
Concrete waterproofing prolongs the lifespan of your building by limiting ways that water and moisture can enter through the ceiling, walls, or floor. If these areas are well protected from water intrusion, the structure can avoid damage such as rust, rotting, corrosion, and deterioration.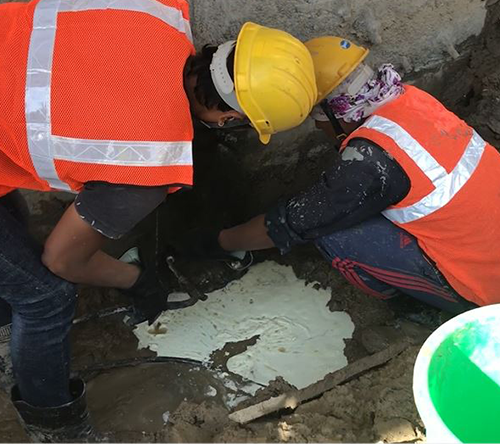 REDUCES MAINTENANCE COST
Concrete waterproofing is a cost-efficient solution to save on expensive repairs. When your building is free from water damage, you can expect to have fewer problems maintaining it. Even the slightest amount of water seeping into a building can build-up or cause concrete to crack, which can easily lead to bigger disasters.
Prevents Mold
Concrete waterproofing isn't only about ensuring the structure's integrity but also preventing health problems. Moisture build-up in the ceiling and walls causes fungus or mold growth. These microorganisms can cause serious health issues such as allergies, asthma, and a weakened immune system. 
SOME SPECIFICATIONS / USES OF WATERPROOFING CHEMICALS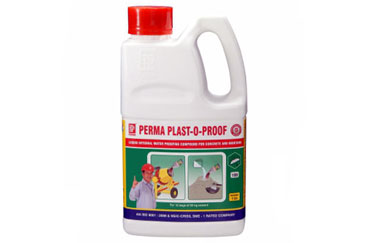 Perma Plast-O-Proof
Description:
Plast-O-Proof is an integral waterproofing compound, ideal for use with both Concrete and Plasters. Plast-O-Proof is based on specialized surfactants and synthetic resin which impart superior flow and cohesive properties in concrete and mortars.
Advantages:

Durability is increased due to air entrainment.
Segregation bleed and thereafter honeycombing is prevented.
The surface finish of concrete and plaster is improved.
mapelastic
Description:
Mapelastic is a two-component mortar based on cementitious binders, fine-grained selected aggregates, special admixtures, and synthetic polymers dispersed in water, blended according to a formula developed in MAPEI's own research laboratories.
Advantages:

Remains flexible at very low temperatures (-20°C)
CE-certified product in compliance with EN 1504-2
Protects the surface of the concrete from CO₂ penetration  for more than 50 years
Resistant to UV rays.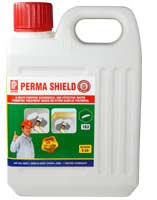 perma shield
Description:
Perma Shield is a straw-colored liquid that has excellent waterproofing and protection properties. Perma Shield is effectively used in arresting nagging leakages, dampness from walls, and protecting exposed particles as well as reinforcements.
Primary Uses:

For waterproofing terraces.
For arresting rising dampness.
For Protection of exposed reinforcing steel rods.
For waterproofing leakages from toilet units and sunk slabs.
For waterproofing damp walls.
As an effective paint additive.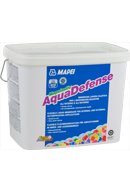 Mapelastic Aquadefense
Description:
Mapelastic AquaDefense is easy to apply using a long-haired roller, brush or trowel on horizontal, sloping, and vertical surfaces. Mapelastic AquaDefense dries very quickly to form a flexible membrane without a sticky surface.
Advantages:

Mapelastic AquaDefense is supplied ready to use.
Mapelastic AquaDefense is a rapid product that resists rainwater 1 hour after applying the first coat and 3 hours after applying the second coat.
Mapelastic AquaDefense is elastic: at +23°C it has 3.2 mm crack-bridging capacity without reinforcement.
Perma Guard
Description:
Perma Guard is a polymer modified cementitious acrylic waterproofing system with a very wide scope of applications in waterproofing and corrosion inhibition situations. Perma Guard is a two-component material that forms a flexible reinforced membrane upon curing.
Primary Uses:

RCC terrace waterproofing.
Coating on bridge girders and under deck waterproofing of bridges.
Coating on leaky plaster surfaces.
Podium slab waterproofing.
Basement retaining wall.
To waterproof water tanks and swimming pools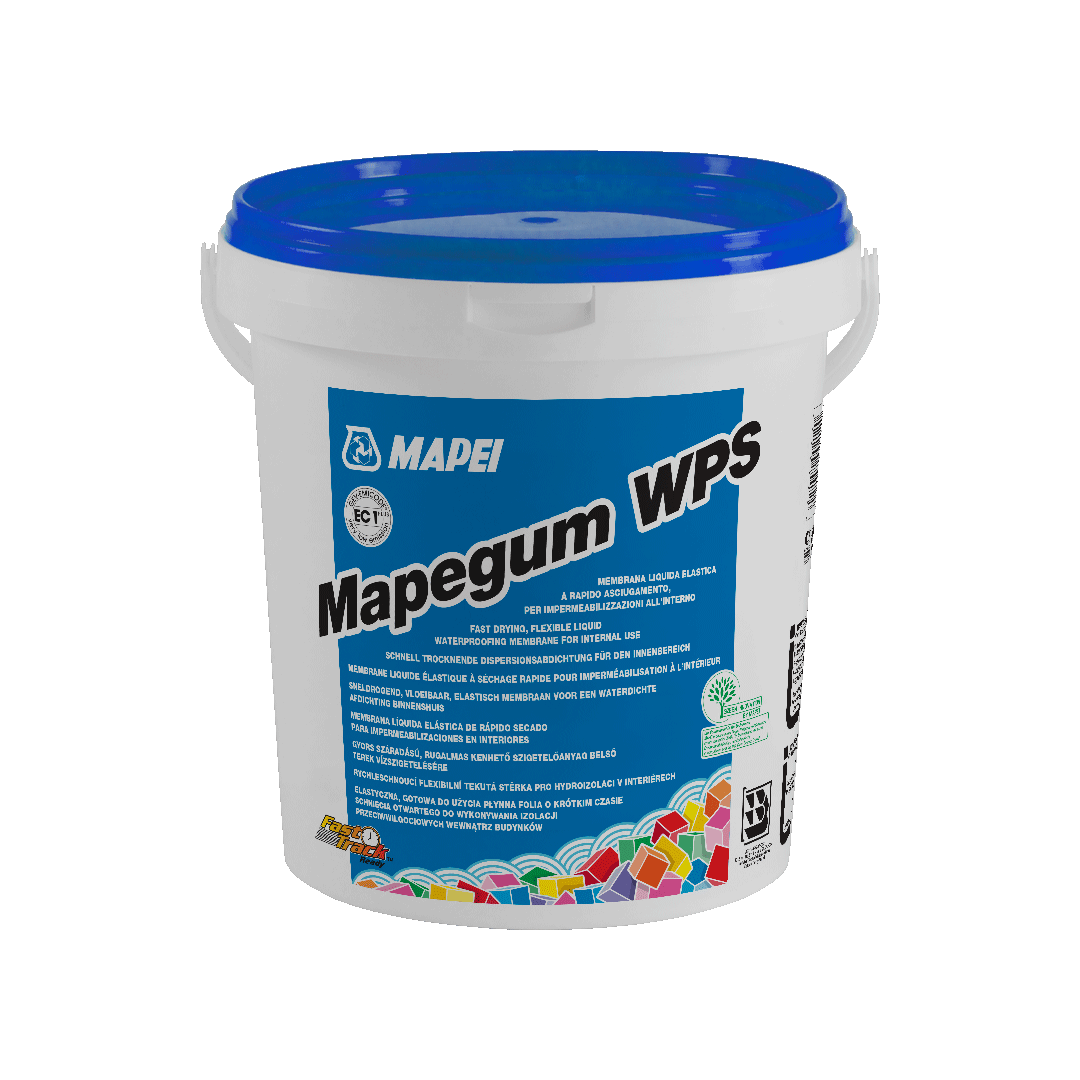 Mapegum wps
Description:
Mapegum WPS is a ready-to-use, solvent-free, one-component, grey-colored paste with a base of synthetic resins in water dispersion. It also forms an excellent surface that bonds perfectly to adhesives used for laying ceramics, marble, and natural stone.
Advantages:

Ready to use.
Rapid application.
Floor coverings may be installed after 12 hours.
Excellent elongation properties.
No reinforcement required.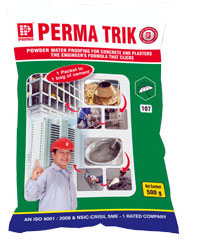 Perma Trik
Description:
Best used as floor and wall coating. It waterproofs the surfaces on which it is coated. Used as an impervious, resilient, and chemical resistant floor or wall coating in food processing plants, breweries, canning, and bottling factories and general waterproofing.
Advantages:

Perma Trik has effective chemical ingredients that waterproof cement permanently.
Perma Trik is ideal for concrete as well as plasters.
Perma Trik is a small investment for building quality structures that need the least maintenance.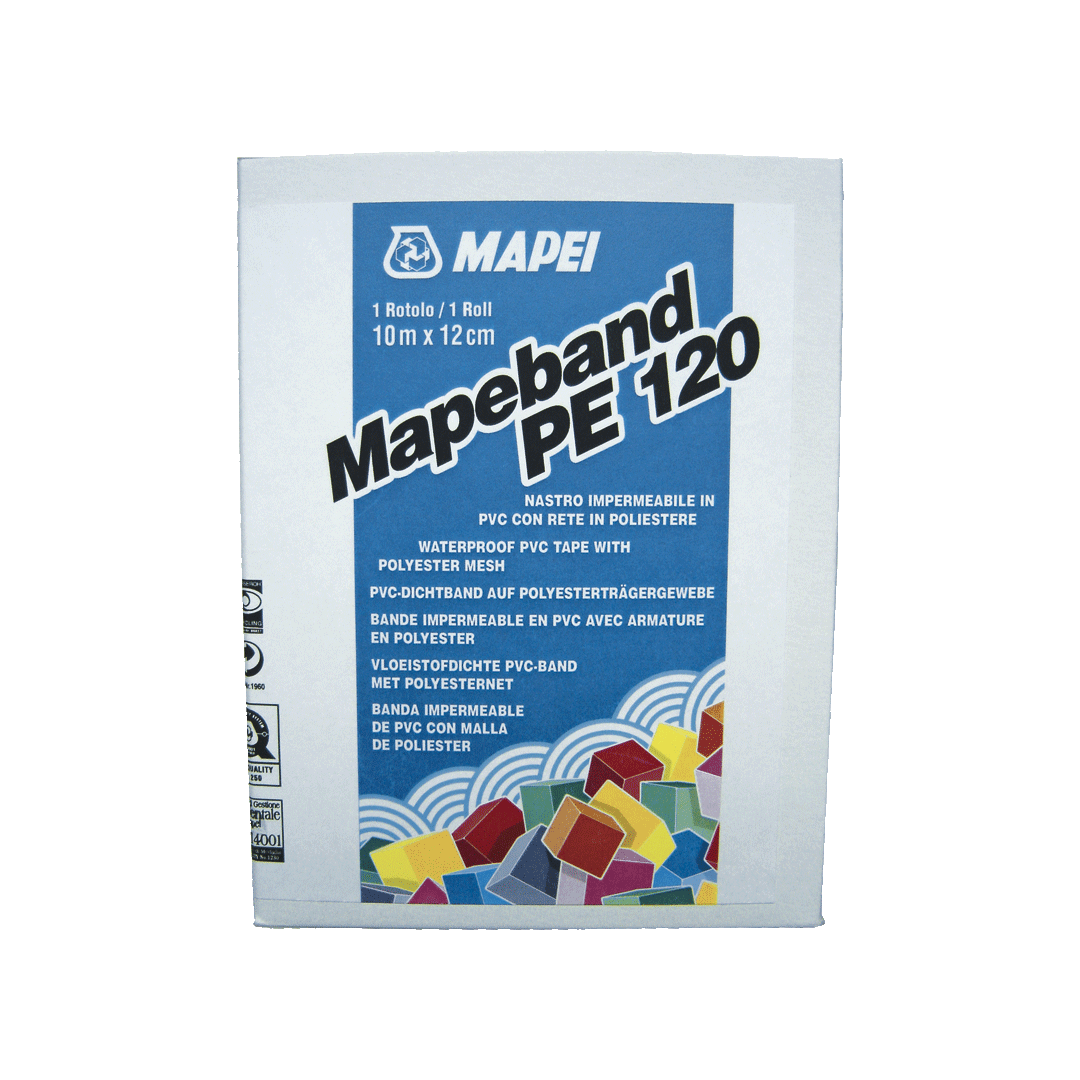 Mapeband PE 120
Description:
Mapeband PE 120 is made from polyester mesh and PVC fabric which is impermeable to water and vapour. It is elastic and deformable. Mapeband PE 120 is also supplied in special shapes for use on internal and external of corners and as seals for pipe-work in bathrooms, kitchens, showers etc. and drains.
Advantages:

Ready to use.
Rapid application.
Floor coverings may be installed after 12 hours.
Excellent elongation properties.
No reinforcement required.
SUPPLIERS WE ARE LINKED WITH