Epoxies are polymer materials that begin as liquids and are chemically changed into a solid. An epoxy-based polymer is mechanically strong, chemically resistant to degradation from chemical elements in the solid form, and highly adhesive during conversion from liquid to solid. There is a wide range of basic epoxy chemicals from which an epoxy coating system can be formulated. Epoxy coatings are used because of their outstanding chemical resistance, durability, low porosity, and strong bond strength. Epoxy coatings can be formulated to be field applied, brushed-on, rolled-on, or troweled-on. Epoxies are known for their excellent adhesion, chemical and heat resistance, good-to-excellent mechanical properties, and very good electrical insulating properties. What are epoxies used for? Applications of epoxy-based materials are extensive and include coatings, adhesives, and composite materials like carbon fiber and glass-reinforced plastic (although polyester, vinyl ester, and other thermosetting resins are also used for glass-reinforced plastic). There are even special epoxy coating formulations that offer increased chemical resistance, increased temperature resistance, and the ability to be applied underwater.
SPECIFICATIONS / USE OF SOME EPOXY COATINGS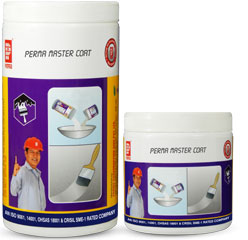 PERMA MASTER COAT
DESCRIPTION
Perma Master Coat is an aesthetic and protective epoxy resin coating that has been specifically developed to meet the in-service protection of concrete, metal, etc. The product is supplied as a two-pack system comprising of pigmented base and hardener.
PRIMARY USES
For the external and internal protection of concrete or metal tanks containing drinking water, oils, consumable liquids, etc.

Best used as floor and wall coating.
For further details, click here
PERMA MASTER PRIME CN
DESCRIPTION
Perma Master Prime-CN is a two-component product based on a non-solvent Epoxy Base and Epoxy Reactor. Perma Master Prime-CN binds the epoxy products firmly to the cementitious bases.
PRIMARY USES
To bind epoxy mortars and flooring products to the concrete base taking care of the porosity of the base and mobilizing the particles of the mortars into the crevices and holes in the base.
For further details, click here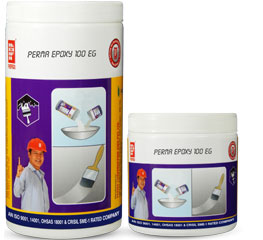 PERMA EPOXY 100-EG
DESCRIPTION
Perma Epoxy 100-EG is a two-component solventless low viscosity epoxy resin-based system, suitable for injecting into the porous concrete to consolidate the structural elements.

PRIMARY USES
Perma Epoxy 100-EG is developed as a low viscosity easy flowing epoxy resin system which travels easily in the body of concrete and consolidates all loose particles.
For further details, click here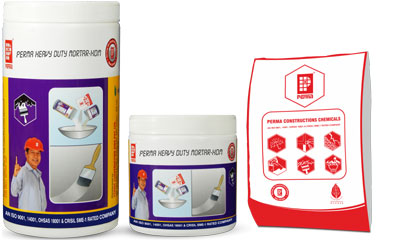 PERMA HEAVY DUTY MORTAR
DESCRIPTION
Perma Heavy Duty Mortar – (HDM) is a Three-Component epoxy resin mortar for use in the repair of industrial floors, dams, spillways, tunnels, bridge girders, etc.
ADVANTAGES
Abrasion-resistant and hard-wearing.
Slip-resistant up to 20 mm.
High Strength.
Easy to handle.
Resistant to chemicals and aggressive substances.
For further details, click here
MAPEGEL UTT SYSTEM
DESCRIPTION
Flexible three-component hydrophilic gel with excellent adhesive properties for waterproofing by injection in underground structures. Specifically formulated to absorb shrinkage and expansion of cracks and voids generated by temperature variations
PRIMARY USES
Waterproofing of loose and/or incoherent soil.
Waterproofing of hydraulic structures with water leaks through macro-porosity and micro-cracks.
Waterproofing of dam walls.
For further details, click here
MAPEI EPOJET LV-40
DESCRIPTION
Epojet LV is a two-component epoxy adhesive. The pre-measured components (component A = resin and component B = hardener) must be mixed together before being used. Once mixed, Epojet LV becomes a very fluid liquid that can easily penetrate even in microcracks.
PRIMARY USES
Monolithic sealing of cracks.
Bonding steel plates to concrete (béton plaqué) by low-pressure injection.
For further details, click here
POLYURETHANE (PU) CHEMICALS
Polyurethane (PUR and PU) is a polymer composed of organic units joined by carbamate (urethane) links. While most polyurethanes are thermosetting polymers that do not melt when heated, thermoplastic polyurethanes are also available. Polyurethanes are used in the manufacture of high-resilience foam seating, rigid foam insulation panels, microcellular foam seals and gaskets, spray foam, durable elastomeric wheels and tires (such as roller coaster, escalator, shopping cart, elevator, and skateboard wheels), automotive suspension bushings, electrical potting compounds, high-performance adhesives, surface coatings and sealants, synthetic fibers
SPECIFICATIONS / USE OF SOME  POLYURETHANE (PU) CHEMICALS
SUPPLIERS OF EPOXY AND PU CHEMICALS WE ARE LINKED WITH: